About us
Hampstead Osteopathy Clinic
Hampstead Osteopathy was founded by Ben Posen in 2008. The clinic is open seven days a week and has achieved its excellent reputation, because we place patient care at the heart of everything we do. The vast majority of our patients (over 2000 appointments in the last year) come as a result of word of mouth. You can see what a few people who have used the clinic have to say about it by going to google.com/+Hampsteadosteopathy. We work closely with a wide range of health care providers and regularly make and receive referrals from local doctors,  consultants, Pilates teachers, podiatrists, personal trainers, massage therapists and many others.
Ben Posen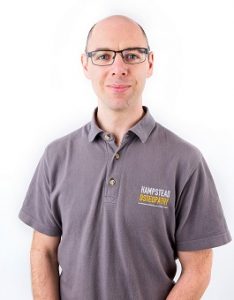 Ben Posen is a friendly, professional and experienced osteopath,  registered with the General Osteopathic Council. He trained at the British School of Osteopathy (now the University College of Osteopathy) and is dedicated to providing effective & safe treatments in a caring and relaxing environment for patients.
Ben is able to treat a wide range of problems and has a particular interest in back pain and sciatica, neck pain and headaches arising from the neck, joint pains and sports injuries. Ben also has a lot of experience working with women both during pregnancy and postpartum. He tailors his treatments and management plans to suit each person taking account of factors like lifestyle, posture, gait and exercise.
Ben has a wide range of interests. In sports he runs with the Queens Park Harriers running club, cycles and plays squash (as well as regular football with his boys in the garden). He also plays the violin in his spare time.
Ben is registered with all the major health providers including, BUPA, AXA, Aviva, Vitality and Cigna
Hermione Halman
H
ermione achieved a Masters in Osteopathy from the British College of Osteopathic Medicine (BCOM). She is a friendly and analytical person  who achieves the best possible results for all of her patients by focusing on the needs of each person and developing comprehensive treatment plans. She enjoys treating a wide range of problems and as well as  the challenges women face during pregnancy.
Hermione has a particular interest in working with dancers, and musicians following her own background in dance (specifically ballet) and playing the violin. She is currently a member of Barnet Symphony Orchestra.
Hampstead Osteopathy, Health Town, 194 West End Lane, West Hampstead London, NW6 1SG
created by genium